Description
Price
Quantity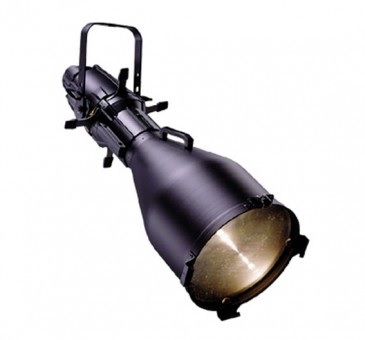 10 Degree Lens Spot Light 750W Max
Product Features 
Rated up to 750W 
Super-efficient HPL lamp 
Faceted dichroic reflector removes 90% of IR heat from beam 
Interchangeable lens tubes 
Rotating barrel ± 25º 
Three-plane stainless-steel shutter blade assembly 
Tool-free lamp adjustment 
Insulated rear handle 
Rugged die-cast aluminum construction 
Supports Dimmer Doubling (North America only)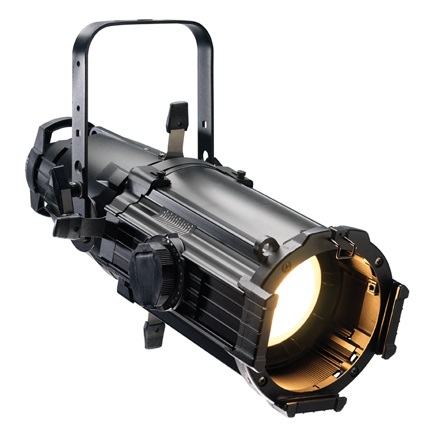 Zoom Spot 15-30 Degree / 750W Max
PHYSICAL
 Rugged, die-cast and extruded aluminum construction
 Patented one-handed focus mechanism with positive lock
 Rotating shutter assembly ±25 degree

 20-gauge stainless steel shutters in a tri-plane assembly
 Lens-tube door provides easy access for lens cleaning
 Scale markings for field-angle and focus settings
 Thermally insulated rear handle
 High-impact, thermally insulated knobs and shutter handles
 Integral die-cast color-frame holder with two accessory slots, and a top mounted, color-frame retainer
 Steel yoke with two mounting positions
 Positive locking double-clutch yoke
 Slot for glass or stainless steel patterns
 Wide accessory slot with sliding cover for motorized pattern devices or optional iris
 UL and cUL Listed
ELECTRICAL
 115-240V, 50/60Hz
 High temperature three-conductor 36-inch leads in a glass fiber outer sleeve
 Supports ETC Dimmer Doubling technology
LAMP
 750W maximum
 HPL - compact tungsten filament contained in a krypton/ xenon-filled quartz envelope (see table for suitable lamp types)
 Patented filament geometry makes for extremely efficient light collection and transmission
 Integral die-cast aluminum heat-sink lamp base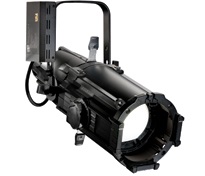 Zoom Spot 25-50 Degree / 150W HID Lamp-12k Hour Lamp Life
PHYSICAL
Yoke mounted electronic ballast
Rugged, die cast and extruded aluminum construction
Patented one-handed focus mechanism with positive lock
Rotating shutter assembly ±25 degree

20 gauge stainless steel shutters in a tri-plane assembly
Lens tube door provides easy access for lens cleaning
Scale markings for field angle and focus settings
Thermally insulated rear handle
High impact, thermally insulated knobs and shutter handles
Two accessory slots and a top mounted, gel frame retainer
Steel yoke with two mounting positions
Positive locking double-clutch yoke
Slot for glass or stainless steel patterns
Wide accessory slot with sliding cover for motorized pattern devices or optional iris
UL and cUL Listed
ELECTRICAL
150W electronic ballast (yoke mounted)
Less than 14 Amps inrush current, lasts less than one AC cycle (16.7mS)-- Select breakers that meet or exceed the in-rush and ampacity requirement
Less than 10% Harmonic distortion
Greater than 95% Power Factor
90% Ballast Efficiency
120V Ballast:- 120V±10%, 60Hz-- 1.5 Amps operating current
277V Ballast: - 277V±10%, 60Hz-- 0.61 Amps operating current
OPTICAL
Re-optimized optical system for improved photometric performance and field uniformity
Faceted borosilicate reflector with dichroic cold mirror coating removes greater than 90% infrared radiation (heat) and reflects greater than 95% of visible light
Reflector and lenses secured with anti-vibration
shock mounts
Two bi-convex lenses with anti-reflective coatings
Low gate and beam temperature, shutters will not warp or distort
Tool free, positive locking X, Y and Z lamp centering adjustments, unaffected by relamping
15A-30A version available
LAMP
150W Ceramic metal halide
ETC Source Four HID is shipped with a 150W Philips MasterColor® CDM lamp-- 3000°K color temperature-- 12,000 hrs. lamp life-- Color Rendering Index (CRI) - 85
Optional 150W Philips MasterColor CDM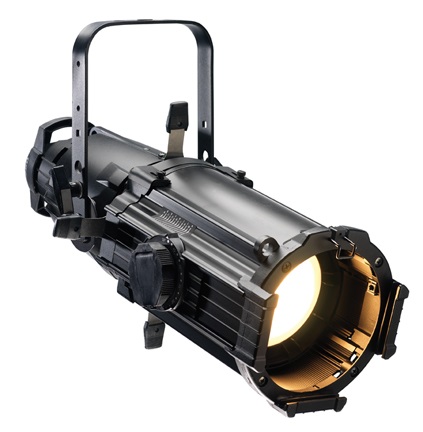 25-50 Degree Zoom Lens Jr Spot Light/ 575W Max
PHYSICAL
• Rugged die cast aluminum construction
• 20 gauge stainless steel shutters in a bi-plane assembly
• High impact, thermally insulated knobs and shutter handles
• Two accessory slots, and a top mounted, gel frame retainer
• Steel yoke with two mounting positions
• Positive locking, hand-operated yoke clutch
• Slot for glass or stainless steel patterns
• Slot with sliding cover for motorized pattern devices or optional iris
• UL and cUL Listed
ELECTRICAL
• 115-240V, 50/60Hz
• High temperature 3-conductor 36" leads in a glass fiber outer sleeve
• Supports ETC Dimmer Doubling™ technology
LAMP
• 575W maximum
• HPL – compact tungsten filament contained in a kryptonfilled quartz envelope (see table for suitable lamp types)
• Patented filament geometry provides extremely efficient light collection and transmission
• Integral die cast aluminum heat sink lamp base 

 OPTICAL
• Optimized optical system for efficient photometric performance
• Two bi-convex lenses
• Faceted borosilicate reflector with dichroic cold mirror coating removes greater than 90% infrared radiation (heat) and reflects greater than 95% of visible light
• Reflector secured with anti-vibration shock mounts
• Tool free, positive locking X, Y and Z lamp centering adjustments, unaffected by relamping
• Beam edge continually adjustable hard-to-soft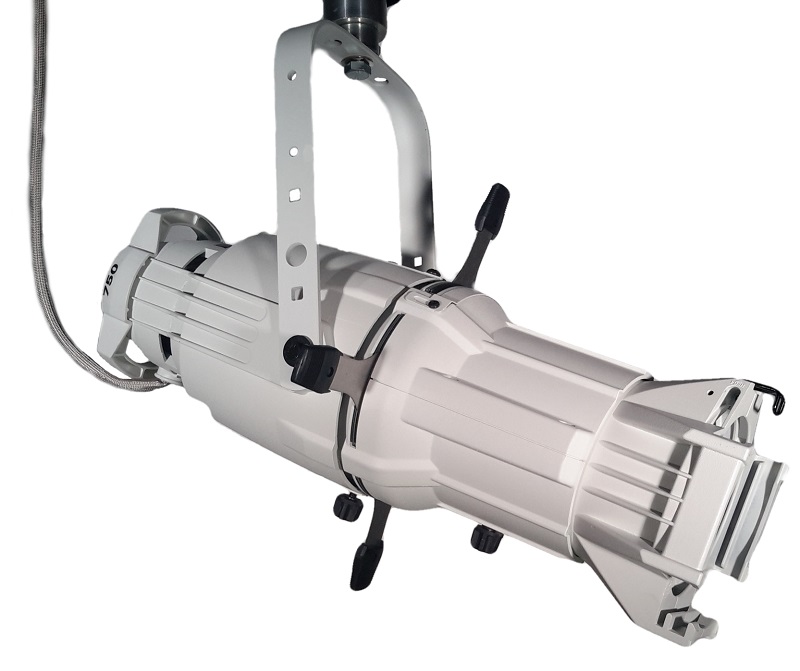 36 Degree Lens Spot Light 750W Max-White
Product Features 
5º, 10º, 14º, 19º, 26º, 36º, 50º, 70º and 90º field angles 
Rated up to 750W 
Super-efficient HPL lamp 
Faceted dichroic reflector removes 90% of IR heat from beam 
Interchangeable lens tubes 
Rotating barrel ± 25º 
Three-plane stainless-steel shutter blade assembly 
Tool-free lamp adjustment 
Insulated rear handle 
Rugged die-cast aluminum construction 
Supports Dimmer Doubling (North America only)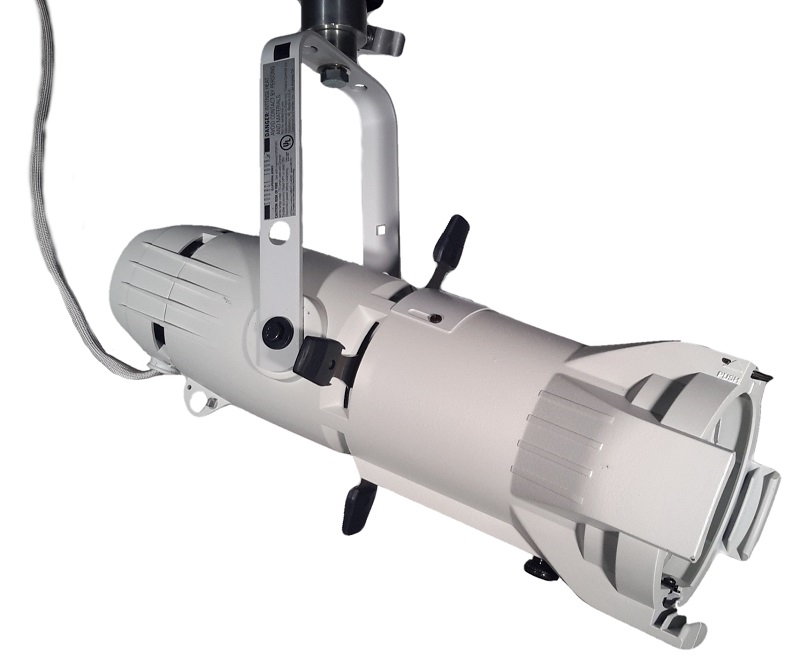 36 Degree Lens Jr Spot Light/ 575W Max-White
PHYSICAL
Rugged die cast aluminum construction
20 gauge stainless steel shutters in a bi-plane assembly
Interchangeable lens tubes with smooth-€"running Teflon guides provide three user-fit field angle options
High impact, thermally insulated knobs and shutter handles
Two accessory slots, and a top mounted, gel frame retainer
Steel yoke with two mounting positions
Positive locking, hand-operated yoke clutch
Slot for stainless steel patterns
Slot with sliding cover for motorized pattern devices or optional iris
UL and cUL Listed
ELECTRICAL
115-240V, 50/60Hz
High temperature 3- €"conductor 36"€ leads in a glass fiber outer sleeve
Supports ETC Dimmer Doubling technology
LAMP
HPL -€" compact tungsten filament contained in a krypton filled quartz envelope (see table for suitable lamp types)
575W Maximum
Integral die cast aluminum heat sink lamp base
OPTICAL
Optimized optical system for efficient photometric performance
Projector-quality, high contrast aspheric lens
Faceted borosilicate reflector with dichroic cold mirror coating removes greater than 90% infrared radiation (heat) and reflects greater than 95% of visible light
Reflector secured with anti-vibration shock mounts
Tool free, positive locking X, Y and Z lamp centering adjustments, unaffected by relamping
Beam edge continually adjustable hard-to-soft
Interchangeable lens assembly kits permit selection of 26°, 36°, and 50° field angles, and 25°-50° zoom range
50 Degree 150W HID Lamp 12k Hour Lamp Life
PHYSICAL
•
Rugged die cast aluminum construction
•
20 gauge stainless steel shutters in a bi-plane assembly
•
Interchangeable lens tubes with smooth–running Teflon guides provide three user-fit field angle options
•
High impact, thermally insulated knobs and shutter handles
•
Two accessory slots, and a top mounted, gel frame retainer
•
Steel yoke with two mounting positions
•
Positive locking, hand-operated yoke clutch
•
Slot for stainless steel patterns
•
Slot with sliding cover for motorized pattern devices or optional iris
ELECTRICAL
•
150W electronic ballast (yoke mounted)
•
Less than 14 Amps inrush current, lasts less than one AC cycle (16.7mS)
- Select breakers that meet or exceed the in-rush and ampacity requirement
•
Less than 10% Harmonic distortion
•
Greater than 95% Power Factor
•
90% Ballast Efficiency
- 120V±10%, 60Hz
- 1.5 Amps operating current*
- 277V±10%, 60Hz
- 0.61 Amps operating current*
 
OPTICAL
•
Optimized optical system for efficient photometric performance
•
Projector-quality, high contrast aspheric lens
•
Faceted borosilicate reflector with dichroic cold mirror coating removes greater than 90% infrared radiation (heat) and reflects greater than 95% of visible light
•
Reflector secured with anti-vibration shock mounts
•
Tool free, positive locking X, Y and Z lamp centering adjustments, unaffected by relamping
•
Beam edge continually adjustable hard-to-soft
•
Interchangeable lens assembly kits permit selection of 26°, 36°, and 50° field angles, and 25°-50° zoom range
LAMP
•
150W Ceramic metal halide
•
ETC Source Four HID is shipped with a 150W Philips
MasterColor™ CDM lamp
•
3000°K color temperature
- 12,000 hrs. lamp life
- Color Rendering Index (CRI) - 85
•
Optional 150W Philips MasterColor™ CDM 4,200°K color temperature (96 CRI) lamp available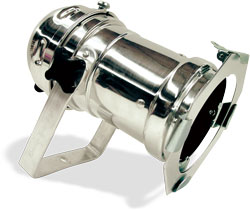 Par 46 Aluminum Lighting Fixture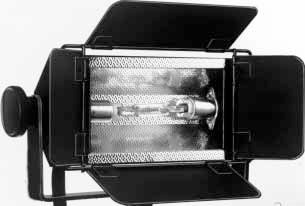 650/1000W Open Face Wash Fixture
Housing
: Sheet steel construction.
Materials
: Corrosion-resistant materials and hardware. Yoke: Rigid flat steel with dual-locking-dog tilt handles.
Reflector
: Peened specular aluminum. Socket: Recessed single-contact, two provided. Tool-free relamping.
Rating
: For Q-LITE, 120/240 volts AC/DC operation, 8.3/4.2 amps, 1000 watts maximum; for Q-LITE-JR,1 120/240 volts AC/DC operation, 5.4/2.7 amps, 650 watts maximum.
Cable:
36" Teflon® leads encased in black fiberglass sleeving. Hi-Temp rubber cable optional up to 25'
Accessories:
Color frame, snoot / color frame holder, and safety cable with spring clip.
Finish:
Black epoxy Sandtex, electrostatic application.
Weight:
Approx. 7 lbs. (3.15 Kg) for Q-LITE; approx. 6 lbs. (2.7 Kg) for Q-LITE-JR.1