Description
Price
Quantity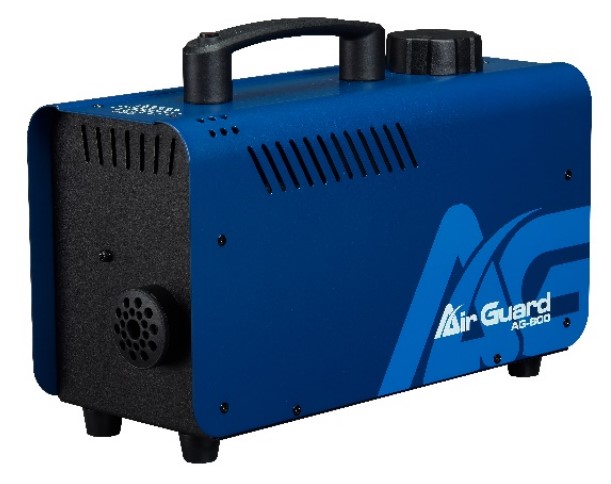 Anti-Bacterial Smoke Machine
Protect the health of you and your loved ones by periodically sanitizing living spaces to kill germs, dust mites, and odors.

The Air Guard AG-800 can spread sanitizing smoke to fill the entire space in all 3 dimensions. It heats up to operating temperature within 2 minutes, and generates 3,000 cu.ft. per minute
output.



Please note that the FLD Fluid used in the AG-800 does not kill, disinfect, or sanitize the COVID19 virus. Please see test report downloads for effectiveness against specific pathogens.





Easy to use

- Simply turn on the power, and when the AG-800 is warmed up, press the A button on the included remote.



Effective

- Operating with FLD sanitation solution, the Air Guard AG-800 can leave a super-fine layer on the surface of objects that
can kill most fungi, germs, dust mites and get rid of bad odors effectively.



Convenient and versatile

- It can be used as part of a regular sanitation program in most spaces including, but not limited to car, house, office, theater, department store, station plaza, airport, gymnasium or hospital.



Specifications

.

Warm up time 2 min

Consumption 10ml / min

Output 3,000 cu.ft. per minute

Fluid tank capacity 0.8L

Compatible fluid Air Guard FLD-05 Disinfectant

Ambient temp.range 0-40 degrees C


Control Manual and Wireless control

Input Voltage US model AC 100-120V, 50/60 Hz 6.7A

Power rated 800W

Dimension 12.4" L x 5.1" W  x 8.6" H

Weight 8.4 lbs.
Available:
Special Order/Direct Ship