Description
Price
Quantity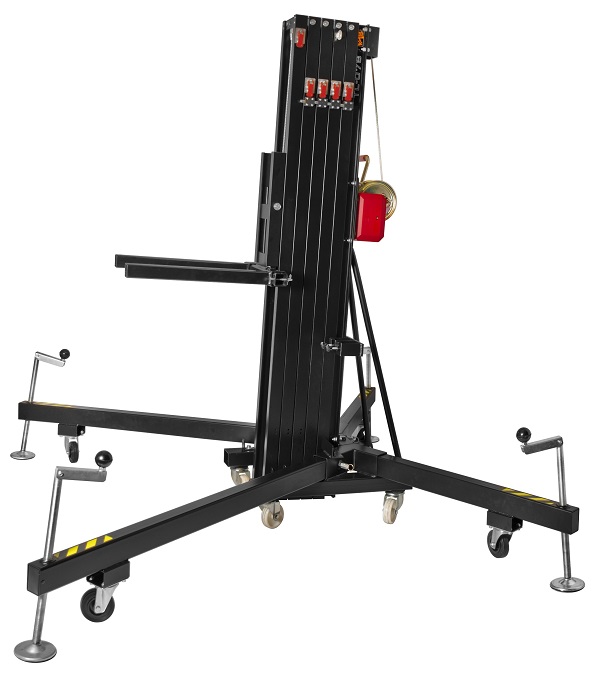 Towerlift Series 617 lbs. / 26.2' Max
2 year warranty from date of purchase

Maximum height 8 m (26.2')
Maximum load 280 Kg (617 lb)
Security ALS
Work surface 2.2 x 2.2 m (7.2 x 7.2')
Folded height 1.98 m (6.5')
Weight 203 Kg (448 lb)
Winch 1200 Kg
Load support Forks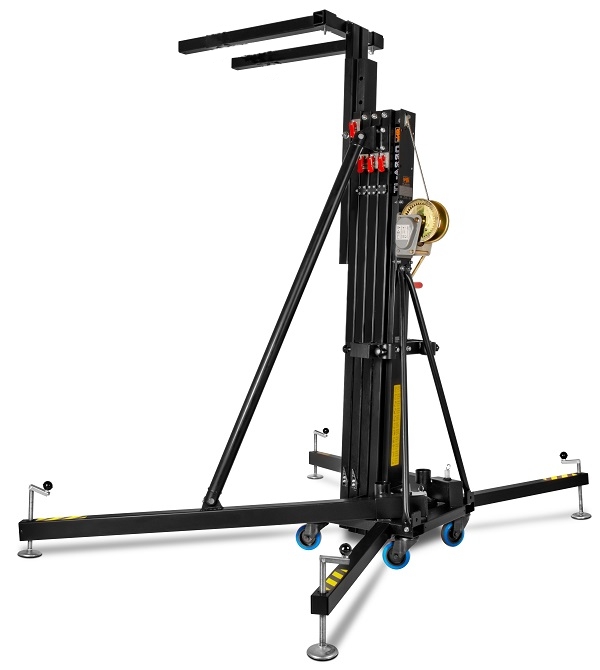 TL-A Line Array Series 485 lbs. / 18' Max
2 year warranty from date of purchase

Maximum height 5.5 m (18')
Maximum load 220 Kg (485 lb) (0.5 m at distance)
Security ALS
Work surface 2.1 x 1.6 m (6.9 x 5.2')
Folded height 1.72 m (5.6')
Weight 111 Kg (244.7 lb)
Winch 900 Kg
Load support Forks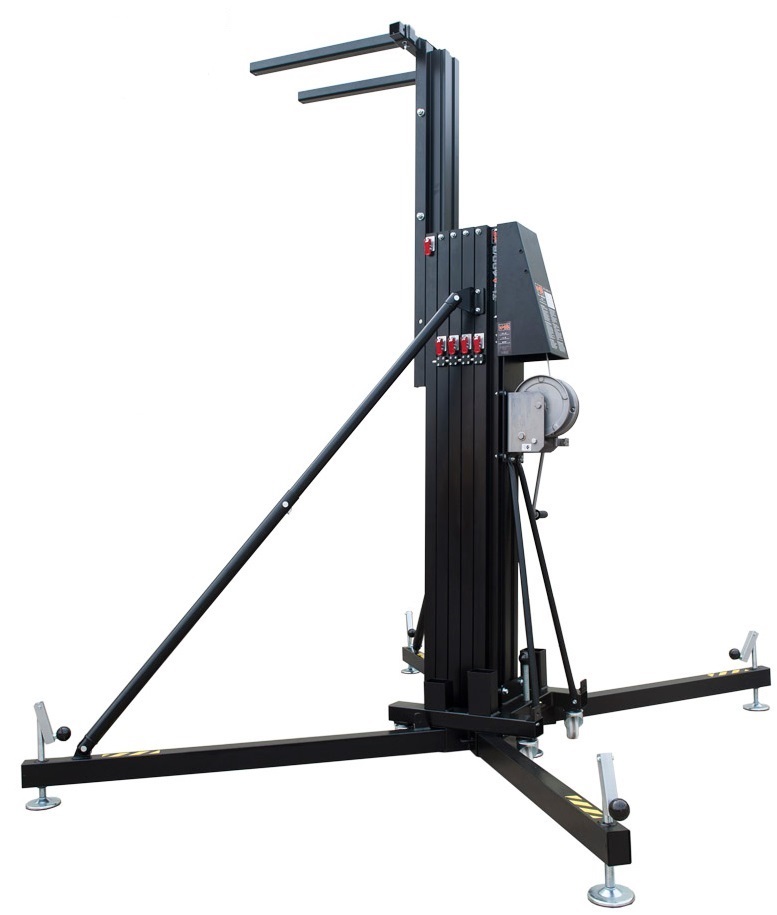 TL-A Line Array Series 881 lbs. / 26.9' Max
VMB offers you a wide range of accessories, which combined with this lifter allows you to increase its unlimited number of applications. One of the most used accessories, for example, is the FAS-01, which is used to hang Line Array audio systems in a fast and effortless way. The TL-A400/8 features the ALS Red locks of VMB, which automatically blocks each section while lifting. And the inertial pendulum ILS safety system for the aluminum lifting carriage. It also has the special SRS Retainer system, patented by VMB, which guarantees that the towerlift will raise the aluminum sections orderly and automatically.
Max. height 8,2m (26.9′)
Max. Load 400Kg (881.9 lb)
Safety ALS auto-lock
Work surface 2.57 x 2.1m (8.4 x 7′)
Folded height 1.98m (6.5′)
Winch 1200Kg Winch Plus
Adaptor 0,75m Array reinforced Forks included
Weight 230Kg (507lb)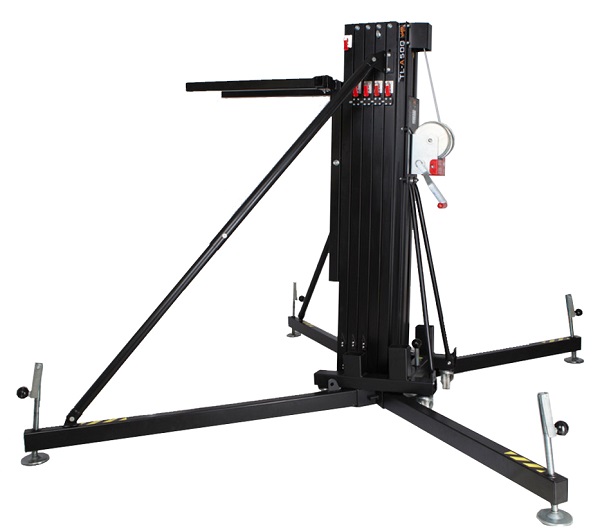 TL-A Line Array Series 1102 lbs. / 23' Max
2 year warranty from date of purchase

Max. height     7m (23')
Max. Load     500 Kg (1102.3 lbs.)
Safety     ALS auto-lock
Work surface     2.57 x 2.12m (8.4 x 7')
Folded height     1.87m (6.13')
Winch     1700 Kg Double handle winch
Adapter     0.75m Array reinforced Forks included
Weight     190 Kg (419 lbs.)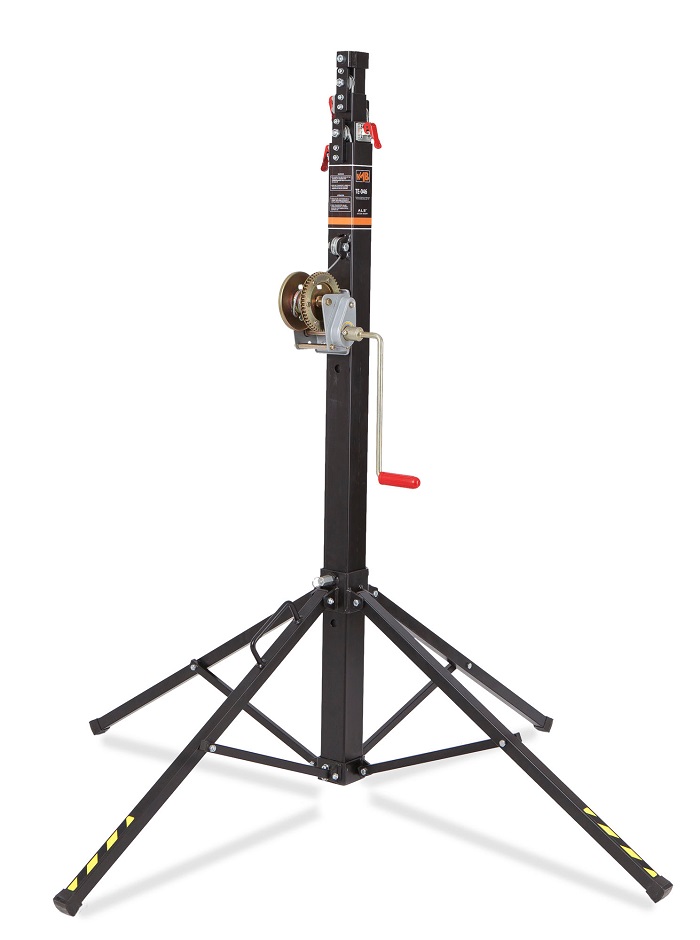 Telescopic Series Towerlift 330 lbs. / 15.1' Max
Features:
Three steel telescopic profiles operated with a cable through a manual winch with a disc brake. 
The sections remain automatically fixed to the required height by the locks of the exclusive ALS Auto Lock Security system. 
The ALS system fixes the sections to the required height, blocking the Towerlift and making it impossible for the load to fall. It guarantees complete working security on stage. 
It has four folding stabilizing legs with protective rubber feet. A loop handle is provided for carrying when folded.
Specifications:
2 year warranty from date of purchase

Maximum height 4.6 m (15.1')
Maximum load 150 Kg (330.7 lb)
Work surface 1.75 x 1.75 m (5.74 x 5.74')
Folded height 1.60 m (5.35')
Weight 31 Kg (69 lb)
Winch 450 Kg (990 lb)
Adapter  35 mm (PSU-06/PSA-01)