Description
Price
Quantity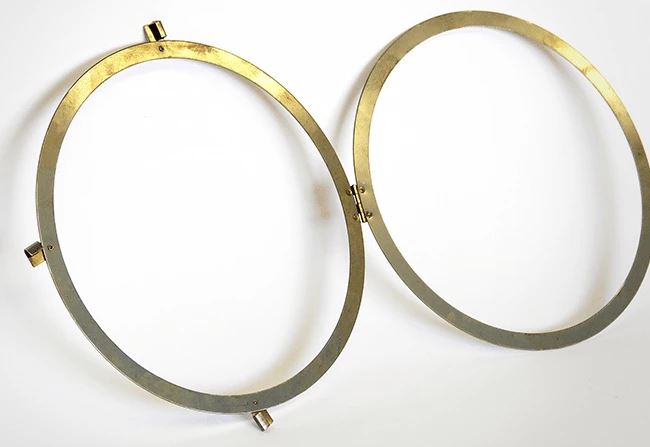 Available:
Special Order/Direct Ship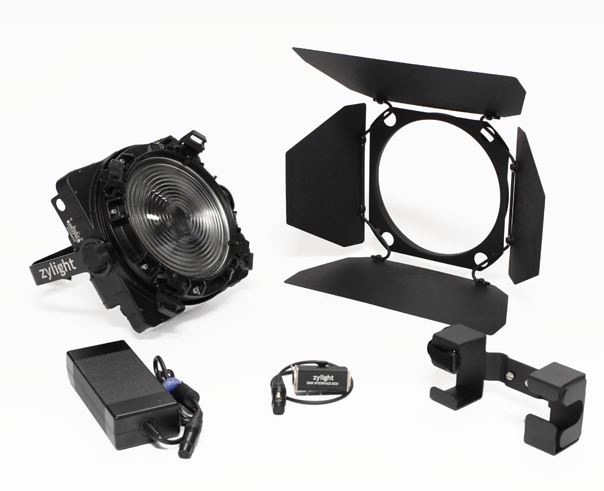 F8-200 Daylight Studio Kit
Tame the Sun


The F8-200 collapses to less than 5" thick, for easy transportation and storage in one of our custom single or dual ATA-rated soft cases. It comes with a worldwide AC adapter, or you can power
it in the field from a pair of standard 14.4V camera batteries or a single 26V battery, for complete portability.

The F8-200 LED Fresnel has a higher output than a 400-watt HMI for the needed punch of light on a bright sunny day. Its weather resistant IP54 rating ensures the F8-200 will keep shining in rain, snow, or blowing dust. Don't try that with your traditional Fresnel.

In the studio, all the functionality of the F8-200 can be controlled via DMX or remotely via the built-in ZyLink™ wireless system. There is also a studio yoke option for permanent installation, and at 15" x 12" x 4" it will take up considerably less space in your grid. Its ultra-quiet fan operation means it can run in a studio setting without disrupting audio recording.



Photometrics



Beam Angle: Variable 16° - 70º

Dimming: 100-0%

Color Temperature: F8-T (3200K), F8-D (5600K)

LED Life: 50,000 hrs. minimum
Features & Benefits
High CRI, High TLCI LED Light Engine

8" Schott™ Glass Fresnel Lens

AC or Battery Operation

IP54 Weather Protection

Compact/Durable. ENG Friendly

3200K Tungsten TLCI 98 / CRI 97

5600K Daylight TLCI 98 / CRI 96

16° - 70° Adjustable Focus

Single Shadow Beam Shaping

Dimmable 100 – 0%

Sturdy, Durable Aluminum Construction

Designed and Finished in the U.S.A.
Available:
Special Order/Direct Ship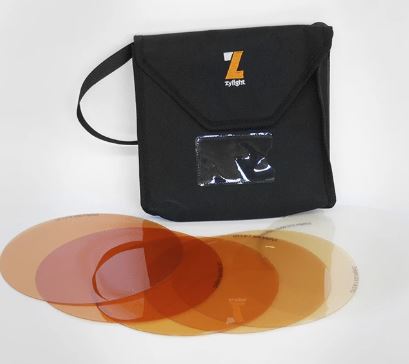 Available:
Special Order/Direct Ship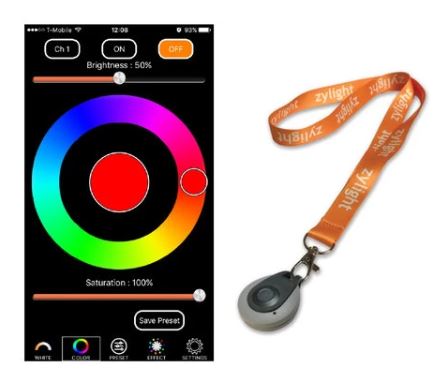 Available:
Special Order/Direct Ship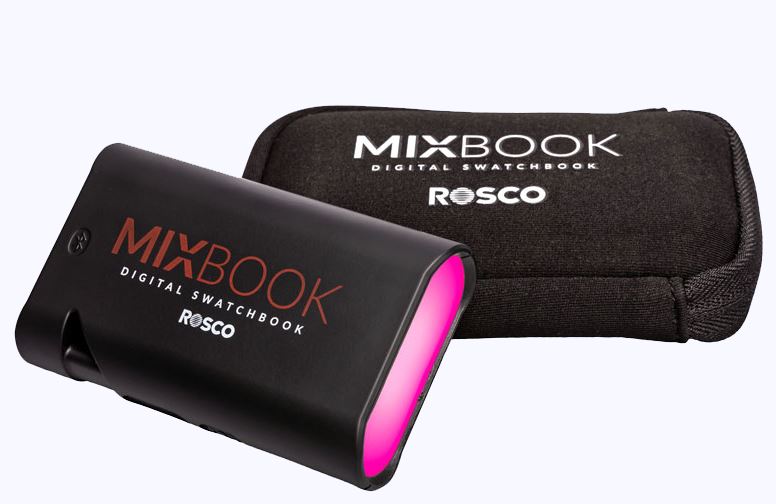 DMG Lumiere Digital Swatchbook
MIXBOOK is controlled by our myMIX™ app. Through the app, users can generate their desired color by adjusting hue, saturation, and intensity levels, or by selecting xy values, and then send that color to MIXBOOK. Through a Bluetooth connection with the myMIX app, MIXBOOK enables users to actively explore the performance of their color choices in an environment, and continue to modify it through the app. Once the desired color has been achieved, users can save their colors to the cloud and share them with their team.


Download myMIX App
 

myMIX™ APP


The myMIX app provides complete control for MIXBOOK as well as the entire range of MIX LED fixtures - all from a mobile device. Available for iOS and Android devices, the app enables filmmakers to easily create or capture the color their scene requires, save that customized color to their own personalized library in the cloud, and then share those colors with anyone on their team that needs them.
Available:
Special Order/Direct Ship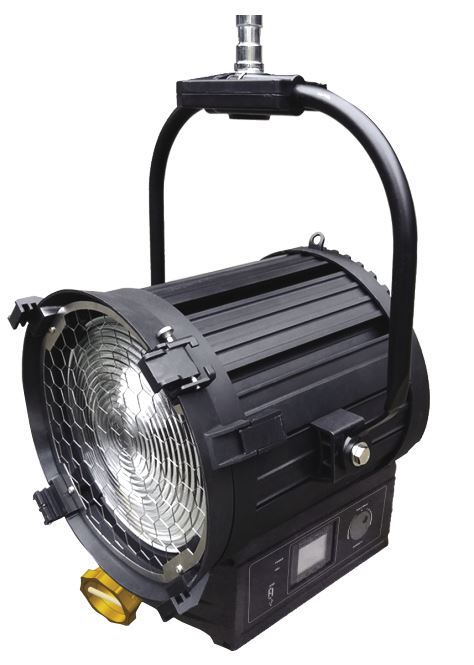 400F LED TV 5600K Manual Operation
400F Includes color frame, 4 leaf barn door, 1m power input cable, mounting yoke with TV Spigot adapter, and instruction sheet.

FEATURES & BENEFITS
High TLCI.
Available as manual and pole operation.
Shaft focus design, with manual knob at rear and angled pole operation cup at the front.
3 selectable FAN modes for complete control - silent / brightness / on.
Selectable LED or "tungsten" response.
Built-in 3 tungsten dimmer curves for matching legacy lighting.
Color LCD display.
Easy "touch & turn" operation with 8 soft buttons and wheel.
USB port for firmware upgrade and performance log file download.
Local and DMX control.
RDM setup.
powerCON AC and 5 pin DMX in & thru connectors.
Two year limited warranty



SOURCE


Type LED
Wattage 380W (max)


OPTICAL PERFORMANCE


Color temperature 5600K
TLCI 97


BEAM


Beam angle 12-45°


CONTROL


Dimming Local
DMX 8 or 16-bit


POWER


Operating voltage 90-240VAC (auto-ranging)
Frequency 50/60Hz
Current draw 1.73A (max)
Power consumption 380W (max)


ENVIRONMENT


Ambient temperature 0-37°
C

  or 32-99°F
Humidity 0-95% non-condensing


COOLING


Cooling Fan


PHYSICALS


IP rating IP20
Finish Black
Construction Aluminum extrusion and casting





Available:
Special Order/Direct Ship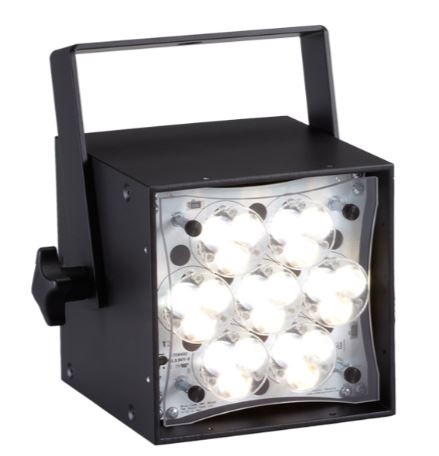 Braq Cube® WNC Variable CCT White LED
A unique mix of warm, neutral and cool LEDs ensure excellent rendering across all color temperatures. Small enough to be built into scenery or soffits, and lightweight enough to mount as a track light, the Braq Cube WNC is perfect for use in broadcast & photography studios and film & TV sets, as well as retail stores, museums and other architectural installations that require a bright, gorgeous white light with excellent color rendering.

Bold yet Refined
At its native 19° beam spread, the Braq Cube WNC packs a punch of light! Every Braq Cube comes complete with a full set of 20°, 40° and 60° lenses to provide the beam control needed by most designers. A range of Asymmetrical lenses and other beam-shaping accessories are also available.



Innovative Compact Design


Very little space is wasted in the elegant, rugged design of the Braq Cube. Our unique, patented heat management system allows 100 watts of LEDs to be packed into a tiny 5 inch cube - a fraction of the space needed by other comparable, 100W lights on the market. The Braq Cube has been engineered to be durable, reliable and affordable without sacrificing the qualities expected by demanding lighting professionals.



Sophisticated yet Simple


Ready for the most demanding professional environments, the Braq Cube is powered by a positive locking Neutrik Powercon connector with power pass-thru and 5-pin XLR, DMX in/out connectors for easy daisy-chain configuration. Two universes of high speed DMX512 in 8 or 16 bit resolution allow for completely flicker-free dimming from your console. An optional "Filament Mode" can be set to mimic the fade of an incandescent lamp going to black. For use without DMX, an intuitive full text LCD control panel dials in brightness and color temperature.



Versatile and Modular


Braq Cubes are small enough to be built into scenery or soffits, and light enough to mount as a track light. A novel yoke design allows cubes to be easily hung with c-clamps, configured in linear strips or in stacked arrays, mounted on c-stands, fit with floor trunions, converted to canopy mount, retrofit with track hanging adapters - or virtually any configuration an installer requires.

LED:  21 x 4W Cree XM-L LEDs
Output:  7100 Lumens (no lens)
Lumen Maintenance:  100,000 hours L50 at 25°C  50,000 hours L50 at 45°C
Color Temperature:  2700K - 6500K
Operation:
DMX: 8 or 16 bit DMX512
Manual: Full Text LCD user interface sets color output
Input Voltage:  90 - 240 VAC 50/60Hz
Power/AC Input:  Neutrik Powercon input and pass-thru
Data:  5-pin XLR Male, 5-pin XLR Female - DMX
Power Consumption:  100 Watts at maximum output
Operating Temperature:  -13° to 113° F (-20° to 45° C)
Humidity:  0 - 95% non condensing
Dimensions: 5in x 5in x 5.3in (127mm x 127mm x 135mm)
Weight: 3.5 lbs (1.6 kg)
Housing: Powder coated aluminum extrusion (1/8 in wall)
Approvals and Listings:

FCC Class A Radiated and Conducted

ETL / UL Standards 1573 and 8750

cETL / CSA C22.2#166-M1983

CE

RoHS Compliant
IP20 Rated Dry locations only
Available:
Special Order/Direct Ship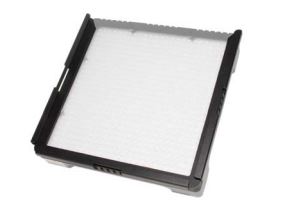 Accessory Holder Adapter Ring for Studio Panel
Available:
Special Order/Direct Ship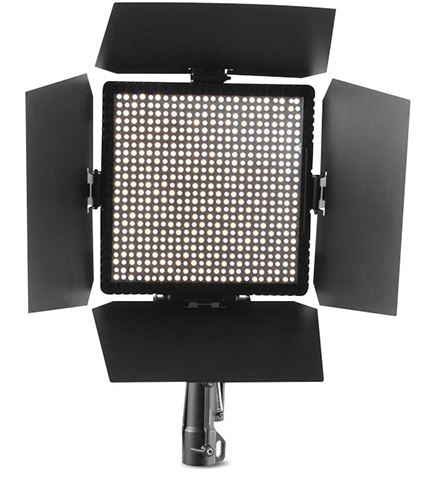 Studio Panel MK II Tunable White
Requiring just 50 watts, these luminaires operate on AC or DC voltage. The battery power input allows location operation using industry standard batteries. Additional holographic diff user accessories provide beam angle control with minimal light loss.

The Studio Panel LED Luminaire ships with PowerCON to Molded Edison input tail (1 meter), Male/Female 5/8" stud adapter, Mounting Yoke, & instruction sheet.



FEATURES



Compact lightweight design

50 degree beam angle

8- or 16-bit control from any DMX512-A control source

Local rotary control for intensity

Variable version features 9 built-in color temperature presets including 3200K and 5600K

Variety of additional accessories

Battery or mains operated

Three year limited warranty
SOURCE


Lamp: LED
Wattage (max): 30W


OPTICAL PERFORMANCE


Color temperature: 3200-5600K
TLCI: 94
Beam angle: 50°
Dimming: Local, DMX 8 or 16-bit


POWER


Operating voltage: 100-240VAC and 12-24VDC (battery)
Frequency: 50 / 60Hz
Current draw: 0.8A (max) @ 115V, 0.4A (max) @ 230V
Power consumption: 50W (max)


ENVIRONMENT


Ambient temperature: 0-40 °C
Cooling: Natural convection
Humidity: 5-95% non-condensing
IP rating: IP20


PHYSICALS


Finish: Black
Construction: Die-cast aluminum


DIMENSIONS

mm in
H x W x D 300 x 545 x 66 11.8 x 21.5 x 2.6in


WEIGHT

kg lb
Net weight 2.3 kg.,  5 lbs.


WARRANTY


Warranty 3 years
Approvals CE
Available:
Special Order/Direct Ship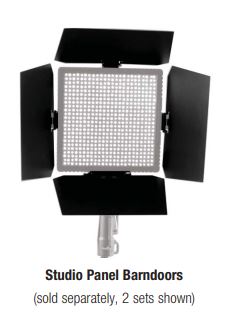 Barndoor, 2-Leaf for Studio Panel
Available:
Special Order/Direct Ship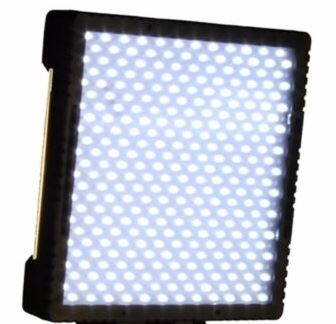 40 Degree Spread Lens for Studio Panel
Available:
Special Order/Direct Ship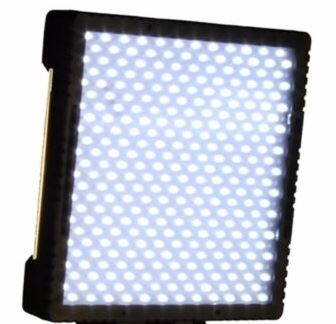 60 Degree Spread Lens for Studio Panel
Available:
Special Order/Direct Ship