Description
Price
Quantity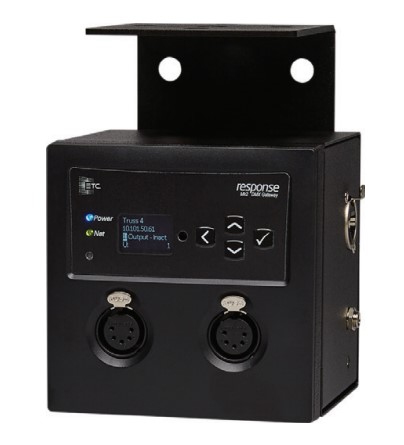 Response Mk2 Two-Port DMX Portable Gateway, Black
APPLICATIONS
Road houses

Touring

University/professional theaters

Convention halls

Tech tables

Stage manager panels

System integration
FEATURES
Distributes DMX and RDM data to any input/output device over Ethernet

Supports Net3 protocol powered by ACN

Configurable DMX/RDM Output or Input

Simple configuration and service of each port

Onboard screen and buttons for labeling, status and configuration

Power and network status indicators

Touch to Wake Sensor

Power over Ethernet (PoE) or external DC power supply

Configurable using Concert Software
Available:
Special Order/Direct Ship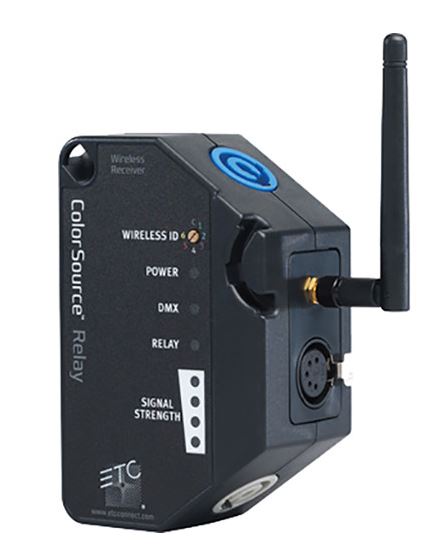 ColorSource Relay Wireless Receiver
Turn on your console and you're ready to go!


By creating a simple and straightforward user experience, the wireless ColorSource Relay makes your show setup and tear down nearly effortless. The ColorSource Relay receives wireless DMX signals and automatically enables power switching and DMX for up to 16 amps of power. After you turn off your DMX controller – such as your lighting console – the ColorSource waits several seconds before automatically turning off all connected devices.

Product features

PowerCon connections and universal power support

Zero-cross relay minimizes inrush at turn-on to connected fixtures

Automated power sequencing

Automated system turn-off

Wireless DMX transport

Reporting of relay state and connected load

RDM feedback and configuration

Input voltage: 90-250V; 47-63Hz

Portable two-pole air-gap relay

USB master: Connect USB drive for software upgrades

Integral Safety Connection

Three mounting options: ETC LED yoke (included), universal yoke, or for use on desktop wall-mount
Includes wireless antenna. powerCON cable NOT included.

Available:
Special Order/Direct Ship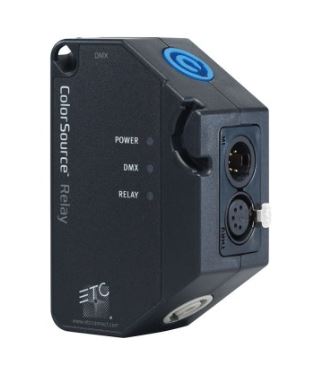 ColorSource Relay Wired DMX
FEATURES
Input voltage: 90-250V; 47-63Hz

Portable two-pole air-gap relay

Auto sequencing: turn-on delay in each relay ensures that no two relays turn on at the same time across a system

DMX (hardwire): Receives hardwire DMX (input) for relay activation with RDM feedback and configuration while passing through DMX/RDM on the five-pin XLR (output) connector

USB master: Connect USB drive for software upgrades

Integral Safety Connection

Three mounting options: ETC LED yoke (included), universal yoke, or for use on desktop wall-mount
Available:
Special Order/Direct Ship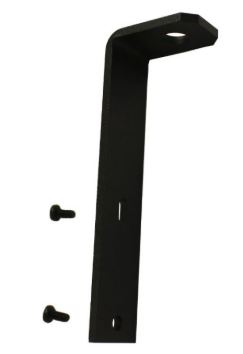 ColorSource Relay Pipe Mount Kit
Available:
Special Order/Direct Ship