Description
Price
Quantity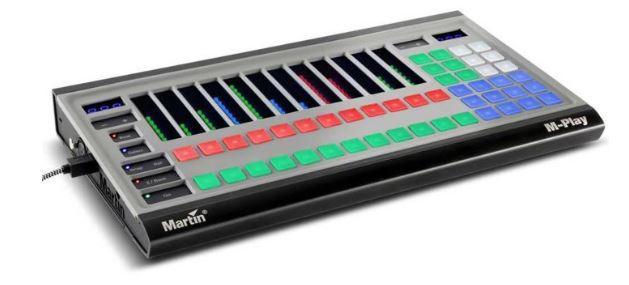 M-PLAY Compact Playback Controller
M-Series Licensing 
1 DMX 5pin XLR port 
M-PC Free 4 Universes (Artnet, sACN) 
M-PC Pro - 64 Universes (Artnet, sACN) (optional M-PC kit required)
 
Features
Compact playback surface for both smaller applications and professional use
Playback and Function button surface with innovative touch fader technology
Pressure sensitive flash buttons
24 Playbacks, 24 multi-purpose function keys. Numerical keypad mode.
Portable, rugged and lightweight design
USB connection for M-PC or as expansion wing for all M-Series consoles
Integrated DMX output, expandable up to 64 Universes
Plug and Play USB device without external power supply
Rackmount option
Specifications
PHYSICAL
Length: 394 mm (15.5 in.)
Width: 219 mm (8.6 in.)
Height: 47 mm (1.9 in.)
Weight: 1.8 kg (4.0 lbs.)
CONTROL/USER INTERFACE
Bank navigation: Up/Down with numerical display (Section 1)
Bank navigation: Up/Down with numerical display (Section 2)
Main Go section: Snap, Release, Pause and Go buttons
Beat and Select button
PLAYBACK
12 Playback Touch faders with 1 button (Velocity Pad), Playback section 1
12 Playback buttons (Velocity Pad), Playback section 1
24 Playback buttons (Velocity Pad), Playback section 2
MINIMUM SYSTEM REQUIREMENTS
Windows 7 or higher
Dual-core processor, 2.0 GHz (Intel i5 or better recommended)
4 GB RAM
2 GB available disk space (SSD recommended)
Widescreen monitor, minimum 1280x800 (capacitive touchscreen recommended)
USB 2.0 port for M-Play surface
10/100 Ethernet port for Art-Net or sACN output
100/1000 Ethernet port for MAXNET and Remote operation
Full administrator rights on PC
CONSTRUCTION
IP Rating: IP20
CONNECTIONS
1 x DMX universe output: 5-pin locking XLR
1 x USB 2.0 input
ELECTRICAL
Power: 5 VDC over USB
Maximum current: 500 mA
THERMAL
Maximum ambient temperature (Ta Max.): 40° C (104° F)
Minimum ambient temperature (Ta min.): 0° C (32° F)
INCLUDED ITEMS
USB cable 1.5 m (4.9 ft.)
Available:
Special Order/Direct Ship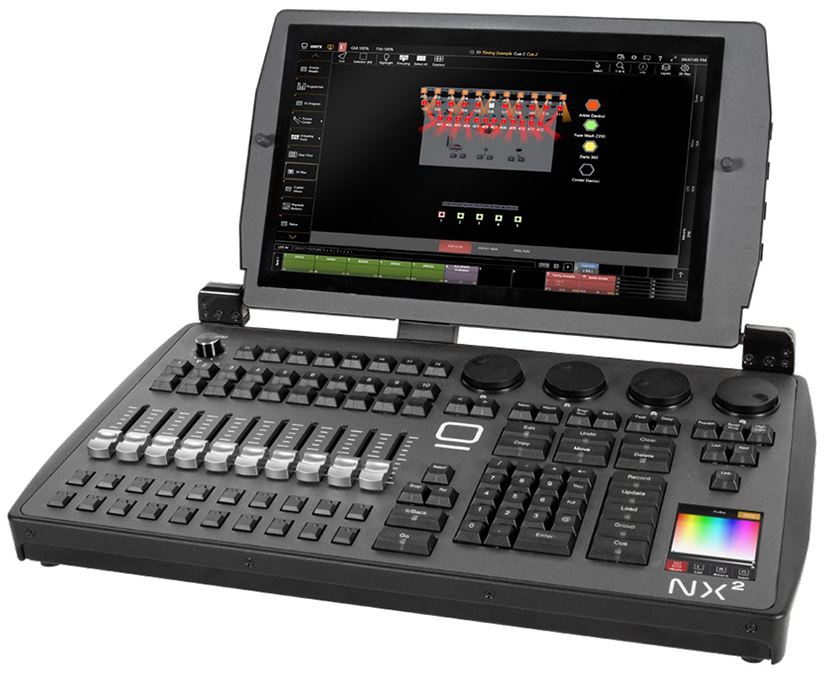 NX2 Lighting Console - 64 Universe
Surface
10 x 60 mm playback faders, each with 4 x function- assignable buttons
8 x customizable multi-function keys
Playback Select button
Master Go section with Go, Pause, Snap and Release
4 x digital rotary encoders with push function and status LED for fixture parameter control
4x screen mounted digital rotary encoders with push
3.5" RGB touchscreen for parameter groups, effect parameters, fanning and global timings
Grand master rotary fader and button
Blind/HighLight/Last/Next buttons
Full numerical keypad and command keys
Hardware
Industrial 15.6" TFT 16:9 touchscreen (1920x1080px)
250 GB NVMe M.2 storage drive
Industrial motherboard with Intel i5 Hexa-Core CPU
Quiet thermal design using advanced copper heat pipe coolers
16 GB DDR4 RAM
Integrated graphics processor
Windows 10 IoT Embedded Operating System
OS installation by USB 3.0 storage device
Supports Windows USB touchscreens
Connections
4 x DMX / RDM Universe In/Out: 5-pin locking XLR
External Display: 2x DisplayPort (up to 4k)
Network: 2x Gigabit for Art-Net, sACN and ONYX X-Net
Storage and Peripherals: 4x USB 3.0, 1x USB 2.0
Audio Out, Mic In: 2x 3.5mm Jack
MIDI in/out/thru (MIDI show control, MIDI notes, MIDI timecode): 5pin DIN
SMPTE Timecode In/Out: 3-pin XLR
12 VDC power supply input: 4-pin XLR
Desk lamp: XLR 12V
USB In: USB 2.0 B
Physical Dimensions
Length: 30 0mm (11.9 in.)
Width: 540 mm (21.3 in.)
Height: 121mm (4.8 in.)
Weight: 4.6 kg (10.2 lbs.)
Electrical Specifications
AC mains power to 12 VDC external PSU (included): 100-240 V nominal, 50/60 Hz
Maximum current: 1.4 A
12 VDC output: 5 A, 60 W max.
Included Items
Capture Solo License
RGB LED desk lamp, angular XLR connector, 13"
Dust Cover
USB Cable
External PSU (12V 5A)
1.5 m power cable, 3-pin IEC (EU or US version) 
Available:
Special Order/Direct Ship