Description
Price
Quantity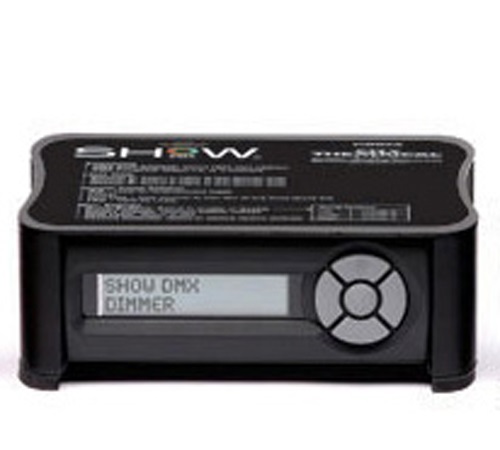 SHoW DMX Three Channel 10A Dimmer
SHoW DMX Three Channel 10A Dimmer Features
NEMA 1 enclosure, Aluminum and Steel
Accessory Mounting Plate for panel or pipe mounting included
User Interface:

(5) Control Pushbuttons: Back, Forward, Up, Down, Enter
16 character x 2 row LCD display, Monochrome, Backlit
Recessed Reset pushbutton
DMX/RDM termination switch
Connections:

XLR5PM for DMX/RDM input, XLR5PF for DMX/RDM pass-thru
(8) 45A Anderson Powerpole connectors as 1 x 2P set Dimmer Power IN and 3 x 2P sets as Dimmer Outputs
Individually controllable via DMX or RDM
4 selectable output formats

ISL (incandescent) dimming curve
Linear (incandescent) dimming curve
LED dimming curve with five TV/Film Modes and six smoothing options
Non Dim
Configuration Options
Dimmer Personality (configure with 1, 2 or 3 DMX Addresses)
DMX Start Address
ISL, Linear, ND, or LED Dimmer (settable separately for each)
RDM Functions
RDM Discovery
Identification
DMX Addressing
Configuration
Battery Voltage
Device Label
Data Loss Timeout
Test Level
Output Format

Compliance: ETL Listed, CE certified, FCC Emissions certified
Available:
Special Order/Direct Ship
Right out of the box, 
Multiverse SHoW Baby
 is fully compatible with all legacy 
SHoW DMX SHoW Baby®
 systems. Use it to build new single universe Multiverse systems, or use 
Multiverse SHoW Baby 
as a receiver on multiple universe systems with a 
Multiverse Transmitter
.
Features
Full compatibility with all previous SHoW Babys right out of the box 

Instant plug-and-play configuration: For a Transmitter, connect DMX IN, for a Receiver, don't! 

Multiverse 2.4GHz Frequency Hopping Spread Spectrum (FHSS) Radio 

Wirelessly broadcast and receive a full Universe (512 slots) of DMX 

Robust wireless DMX512 and RDM data transmission 

Six user selectable SHoW IDs accessible on the "SET ID" button, plus 147 Multiverse and 70 SHoW DMX Neo SHoW IDs accessible via RDM. 

Extremely low 4mS latency 

RDM proxy and responder functions 

Mounting bracket for installation with C-Clamp or similar hanging hardware 

Included CL2 Power Supply 

Included 2dBi omni-directional antenna 

Neutrik® 5P XLR Connectors for DMX IN and DMX OUT
Product Information
Product Name Multiverse SHoW Baby
Part Number 5900
Maximum Concurrent Universes 1
Frequency Range: 2400 – 2480 MHz
Physical Specifications
Length 92mm (3.625 in)
Width 76mm (3.00 in)
Height 46mm (1.80in)
Weight 0.16 Kg (0.35 lb)
Construction Steel, ABS plastic, Black
Connection Specifications
DC Jack, 5.5mm x 2.1mm barrel, center positive, 9mm mating depth (this power supply connector is not compatible with Multiverse Node)
Neutrik® 5-Pin XLR connectors for DMX512 IN and OUT/thru ports
RP-SMA female antenna connector
USB Type-A port, internal (requires removing cover and circuit board)
Functionality
User Interface 1 Button/LEDs
RDM Features RDM Proxy, RDM Responder
Power
Input Power 5-30VDC, 0.8W
Max Draw 66mA max draw at 12V
AC Adapter Voltage 100VAC to 240VAC 50/60Hz
Radio Technology
Latency 4 ms average
RF Sensitivity -95dBm
Loss of Data Behavior Output stops
Broadcast Power 2.5mW, 8mW, 25mW, 80mW EIRP
Broadcast Modes Adaptive, Full, Low, Mid, High, Max
DMX Burst Modes Auto Dynamic
Show IDs 217 (Americas and Worldwide)
Additional Product Information
Use Environment Indoor
Operating Temperature 0° C to 40° C
Storage Temperature -40° C to 85° C
IP Rating IP50
Compliance FCC, IC, CE
Warranty One year
Available:
Special Order/Direct Ship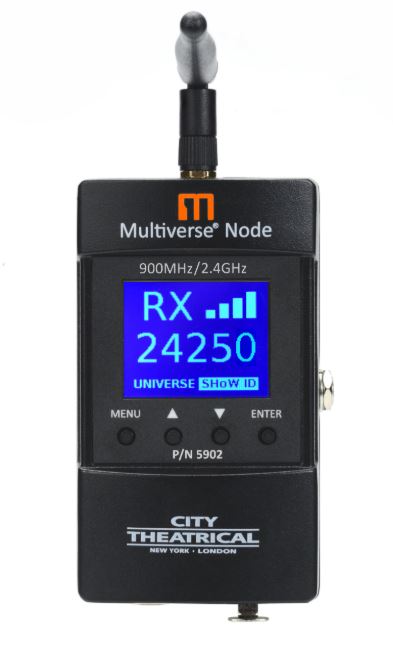 Multiverse® Node 900MHz / 2.4GHz
The Multiverse Node 900MHz/2.4GHz (P/N 5902), is licensed for use in North America only. It contains two built-in radios, 2.4GHz and 900MHz, which allow the user to select which single universe to transmit, and which radio band to use via the SHoW ID.


Features




Choice Of Broadcast Radio


Transmit and receive on the 2.4GHz band (P/N 5903) or on the 2.4GHz or the 900MHz band (P/N 5902).


mDMX

(Multiverse SHoW IDs only)
mDMX is a form of DMX optimized for wireless broadcast that dramatically reduces data being broadcast, thereby reducing unneeded radio energy.


mRDM

(Multiverse SHoW IDs only)
Multiverse is able to broadcast RDM information without disrupting the DMX broadcast. This feature is not available even in wired RDM systems. (Not available on SHoW DMX Neo SHoW IDs.)


SHoW Key Security

(Multiverse SHoW IDs only)
SHoW Key is an additional three-digit code that can be added to the Multiverse SHoW ID that will prevent any other system set on the same SHoW ID from interfering with your system.


Forward Error Correction

(Multiverse SHoW IDs only)
Allows the Receiver to detect and correct errors that may occur in the wireless transmission of data.


Ultra Low Latency


Total average system latency of 4ms.


User Selectable Adaptive Spread Spectrum Frequency Hopping


Adaptive Spread Spectrum Frequency Hopping identifies and masks off hopping channels that contain interference, replacing them in the hop sequence with alternate channels.


Adjustable Output Power


Sometimes an application calls for the most available broadcast power, but many entertainment systems can utilize lower output power to reduce detrimental effects on other radio systems in the venue, reduce reflections, and improve performance.


User Selectable SHoW IDs


City Theatrical has always produced wireless DMX products that allowed the user to select the optimum transmission method. Users may select full bandwidth hopping, hopping limited to a section of the spectrum (including areas of the spectrum outside of the Wi-Fi range), or adaptive hopping.
• Protocols supported: ANSI E1.11 DMX512-A; E1.20 RDM
• Compatible with all Multiverse and SHoW DMX Neo products
• User can select a single universe to receive
• A very simple user interface to set SHoW ID and universe
• RDM proxy and responder functions
• DMX 5-pin in and out/thru ports
• Rugged cast aluminum enclosure
• Antenna: Omni Broadband 900MHz/2.4GHz, 2dBi/4dBi (P/N 5902); Omni Broadband 2.4GHz, 4dBI (P/N 5903)

•

Auto-selection of transmit or receive mode
• Firmware updateable via USB port
• CL2 power supply with locking connector
• Built-in auto select DMX512 termination
• Selectable display timeout and brightness level
• A hanging bracket for hanging from pipe or truss

Available:
Special Order/Direct Ship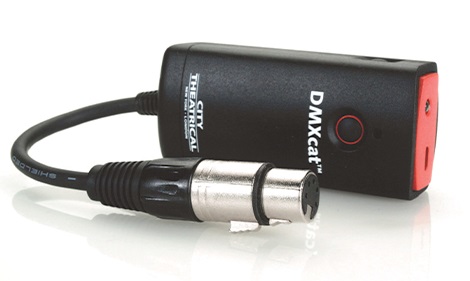 DMX Multi Function Test Tool
Software Applications
There are currently seven apps available or in development for use with the DMXcat system. Apps are available through Google Play (Android) or the App store (IPhone). Apps Included with the Basic configuration include:
DMX Controller

Is a single universe (512) DMX channel controller with two user interfaces.

Fixture Controller

DMX test app for multi-attribute fixtures with built in database of lighting fixtures.

RF Spectrum Analyzer

For surveying and visualizing Wi-Fi networks.

DIP switch calculator

This app simplifies the configuring of DIP switches used for setting DMX addresses.

Light Meter (Android only)

Useful for setting light levels for on-camera use. Apps which are optional:

RDM Controller

App for bi-directional communication/control of RDM enabled devices.

DMX Tester

Permits users to analyze and or adjust settings for transmitting or receiving DMX.
Available:
Special Order/Direct Ship