Description
Price
Quantity
UltraBlade LED Series 24" Single Lamp Black Light
DISCOVER UNMATCHED VERSATILITY
With the ability to link up to 450 Watts, the UltraBlade® Series is your go-to for linking multiple systems.
Constructed from the same durable, industrial-grade materials as our other high-quality UV lighting products, the thin UltraBlade® Series boasts much greater UV output, better quality UV output, more energy efficiency and lower maintenance costs than standard fluorescent black lighting. UltraBlade® Series lighting fixtures can be linked together (interchangeably) using optional link cords for various linear or curved configurations. Up to 450 Watts can be linked together from one power source.
GET POWERFUL UV LED TECHNOLOGY
Wildfire's UltraBlade® Series provides energy efficient, quality UV output. Features include:
Advanced, self-ballasted UV LED lamps
Convenient universal voltage input
Flicker and RF interference-free
Positive locking sockets
Neutrik PowerCON power connectors
Optional, adjustable mounting brackets
Durable, lightweight aluminum housing
Designed, engineered and built in the U.S.A.
Three-year parts and labor warranty

Available:
Special Order/Direct Ship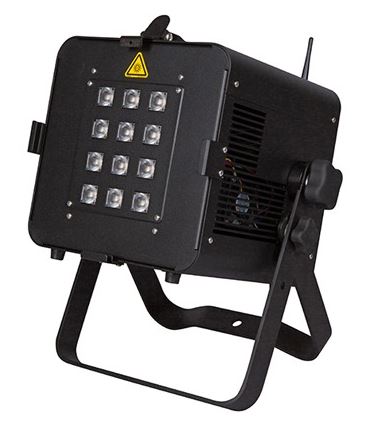 VioStorm UV LED,120W, 365nm Black Light
The Wildfire VioStorm UV LED lighting series combines true 365nm UV output and long throw performance with the control and efficiency of LEDs, delivering just the right wavelength for truly eye-popping UV effects. Featuring Wildfire's intuitive Trias® DMX/RDM Control System and interchangeable silicone optics, VioStorm UV lighting has more power, control and versatility than any other UV LED fixture on the market.


ULTIMATE INTUITIVE CONTROL


VioStorm fixtures incorporate Wildfire's intuitive Trias DMX/RDM control and monitoring system. Here's a brief overview:

Unique 3-button interface provides intuitive access to all available options and configurations

Capacitive touch switching for greater responsiveness and longer life

High contrast OLED display for greater visibility in both darkness and bright sunlight, and readable even from extreme angles

Universal control processor includes both wired and optional MultiVerse® 2.4GHz or 900MHz wireless DMX connectivity

Local control of all available fixture special effects and their settings

Full RDM compatibility for monitoring and reporting of key indicators

Convenient downloadable software updates
MORE WILDFIRE VIOSTORM LIGHTING FEATURES


Flexibility and convenience to help you create the perfect black light storm.

Powerful 365nm peak UV output

Convenient universal voltage input

Intuitive DMX/RDM control and monitoring

Optional MultiVerse 2.4GHz or 900MHz wireless DMX connectivity

Individual LED Protection

Intelligent SinkPAD® thermal management

Flicker-free 16-bit dimming resolution

Versatile interchangeable silicone optics

Industry standard accessory frame

Heavy-duty aluminum construction

Durable stainless-steel hardware

ETL listed and ROHS compliant

Designed, engineered and built in the U.S.A.

Three-year parts and labor warranty
Available:
Special Order/Direct Ship