Description
Price
Quantity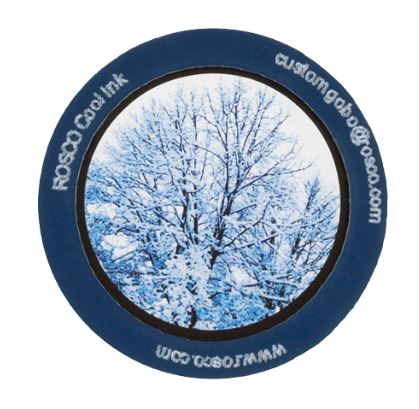 Cool Ink Custom Plastic Gobo
Cool Ink Gobos feature excellent ink absorption that results in superior image resolution over DIY transparency "gobos." Cool Ink Gobos have a lightweight, rigid plastic bezel that secures the plastic image in place – which not only protects the gobo, but also helps keep the plastic from warping and your image from distorting.

Cool Ink Plastic Gobos
Gobo Thickness: Bezel = 1.4mm
Size Range: 19mm – 100mm

Guidelines For Your Custom Plastic Gobo Order




Artwork Requirements


Minimum Image Resolution:    233 dpi, 3" x 3"; or 642 pixels by 642 pixels
Notes:  Please submit camera-ready art and know that whatever artwork we receive will be reflected in the final image.



Gobo Size and/or Fixture Type


Cool Ink and Cool Ink HD custom gobos can be manufactured to fit virtually any cool-running LED light fixture available. Please check with the fixture manufacturer, or with Rosco, to ensure that your LED fixture will accept plastic gobos. The fixture you use will determine the size of the gobo you need. If you know the gobo size (B-size, M-size, etc.) your fixture requires – then that's all we need. If you don't know the actual gobo size, many times the fixture manufacturer will provide its gobo requirements, including the gobo's outer diameter (O.D.) and image area (I.A.). To be sure you get a gobo that fits your fixture, it's always best to provide the make and model of the lighting instrument you are using when ordering.



Logistics


How many gobos do you need? When it comes to plastic gobos, we strongly advise making sure you have an extra copy of the gobo on-hand as a backup. When do you need the gobos? What is the Ship-To address and what shipping method should we use to get your gobo to you on-time?
 


Turnaround Times


Cool Ink Gobos     ships next day (custom or standard)

 
 
Available:
Special Order/Direct Ship
Cool Ink HD Custom Plastic Gobo
Cool Ink HD Gobos feature two layers of easy-to-clean, heat-deflecting glass. Sandwiching the printed image between glass improves the plastic gobo's ability to resist heat and helps further prevent image distortion/warping. In addition, the glass allows users to clean fingerprints and other smudges off their projection. Additionally, the bezels used are fixture specific and are suitable for moving light LED units that accept plastic gobos for easy install.

These gobos offer excellent image resolution at an affordable price - particularly for full-color or grayscale images, and for artwork requiring a true black background.

Cool Ink HD Plastic Gobos


Gobo Thickness: Bezel = 1.1mm
Printed via inkjet printers
Size Range: 19mm – 100mm

Guidelines For Your Custom Plastic Gobo Order




Artwork Requirements


Minimum Image Resolution:    233 dpi, 3" x 3"; or 642 pixels by 642 pixels
Notes:  Please submit camera-ready art and know that whatever artwork we receive will be reflected in the final image.



Gobo Size and/or Fixture Type


Cool Ink and Cool Ink HD custom gobos can be manufactured to fit virtually any cool-running LED light fixture available. Please check with the fixture manufacturer, or with Rosco, to ensure that your LED fixture will accept plastic gobos. The fixture you use will determine the size of the gobo you need. If you know the gobo size (B-size, M-size, etc.) your fixture requires – then that's all we need. If you don't know the actual gobo size, many times the fixture manufacturer will provide its gobo requirements, including the gobo's outer diameter (O.D.) and image area (I.A.). To be sure you get a gobo that fits your fixture, it's always best to provide the make and model of the lighting instrument you are using when ordering.



Logistics


How many gobos do you need? When it comes to plastic gobos, we strongly advise making sure you have an extra copy of the gobo on-hand as a backup. When do you need the gobos? What is the Ship-To address and what shipping method should we use to get your gobo to you on-time?
 


Turnaround Times


Cool Ink Gobos     ships in 2 business days

Available:
Special Order/Direct Ship