Description
Price
Quantity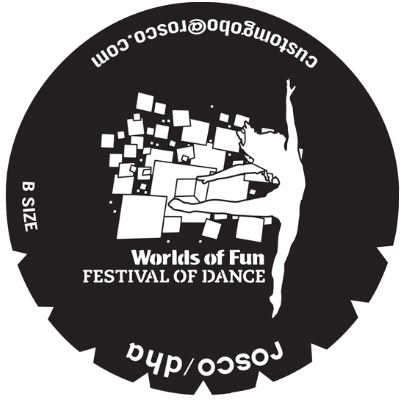 Custom Steel Gobo - Original - Includes Tooling / Setup
Any Size, Any Fixture
When you order a custom steel gobo from Rosco, we recognize that your design and your situation are both completely unique; this includes the fixture you're using to project it. Whether you need a tiny gobo for a moving light or an A-size gobo for the latest LED gobo projector, we can make your gobo in any size you need to fit into any fixture, many times at no extra expense to you.
Precise Imaging for Clean Line Detail
Rosco has revolutionized gobo etching, yielding a durable (8 mil) gobo with exceptional image quality. When it comes to gobos, tiny imperfections on the surface turn into large issues when they're projected. Our precise vertical cuts produce a cleaner projection with less "feathering" of the image than other etching techniques and allow for the smallest line point size, which gives us greater capability to customize very small metal gobos.
Long-Lasting Durability
Producing our steel gobos on 8 mil steel offers robust durability under the most rigorous lighting conditions. Rosco uses quality steel and meticulous quality control practices for cleaning the metal before and after production, ensuring an extremely precise etch. Our gobo manufacturing techniques allow us to capture a clear projection for even the finest detailed gobo.
Quick Turnaround Time And High Capacity Production
We offer standard next day turnaround for all custom steel gobo orders and same-day turnaround upon request (additional rush charges apply for same-day service).
Our high-volume gobo capacity has made Rosco the gobo manufacturer of choice for several light fixture manufacturers around the world. These companies trust that Rosco will deliver a durable steel gobo of their design – on time – no matter how many they order. Rosco has a manufacturing facility for metal gobos in Texas, USA and London, UK. This means we are manufacturing gobos almost 18 hours a day!
Specifications
Substrate: Stainless Steel
Gobo Thickness: 8mil
Size Range: 10mm round - 28cm x 28cm square (additional charges may apply for extra-large sizes)
Guidelines For Your Custom Steel Gobo Order
Artwork Requirements
Minimum Image Resolution: 150 dpi
Notes:  Line art is not usually degraded by low resolution files. But small text may be difficult to render.

Custom Steel Gobo Artwork Disclaimer:
We strive to replicate the original artwork received as much as possible when rendering it as a custom gobo. Please note that metal tabbing is almost always necessary for this type of gobo, and that smaller sized gobos with detailed art or several characters may need to be changed.

Gobo Size and/or Fixture Type
Rosco can manufacture custom steel gobos to fit virtually any light fixture available. The fixture you use will determine the size of the gobo you need. If you know the gobo size (B-size, M-size, etc) your fixture requires, then that's all we need. If you don't know the actual gobo size, many times the fixture manufacturer will provide its gobo requirements, including the gobo's outer diameter (O.D.) and image area (I.A.). To be sure you get a gobo that fits your fixture, it's always best to provide the make and model of the lighting instrument you are using when ordering. 
Logistics
How many gobos do you need? Remember that the original gobo has a higher price to cover the design and tooling of your custom pattern, while copies of the same artwork and gobo size will cost significantly less. 
Do you want an extra copy to have on-hand as a backup?
When do you need the gobos?
What is the Ship-To address and what shipping method should we use to get your gobo to you on-time? Remember that Rosco Custom Steel Gobos ship the next day after we receive the order.
Available:
Special Order/Direct Ship