Description
Price
Quantity

Basic Specification
model: DMXTSTR
Connector:
5 pin male or 3 pin male
Indicators:

Data + Green T1 light emitting diode (LED)


Data - Red T1 light emitting diode (LED)

Effective input impedance:
220 Ohms (each line)
Power input:
None, draws power from DMX line
Color:
Silver connector body with white label
Size and weight:
1.9" long, 0.8" maximum diameter, 1.5 ounces
Available:
Special Order/Direct Ship

Basic Specification
model: DMXTSTR
Connector:
5 pin male or 3 pin male
Indicators:

Data + Green T1 light emitting diode (LED)


Data - Red T1 light emitting diode (LED)

Effective input impedance:
220 Ohms (each line)
Power input:
None, draws power from DMX line
Color:
Silver connector body with white label
Size and weight:
1.9" long, 0.8" maximum diameter, 1.5 ounces
Available:
Special Order/Direct Ship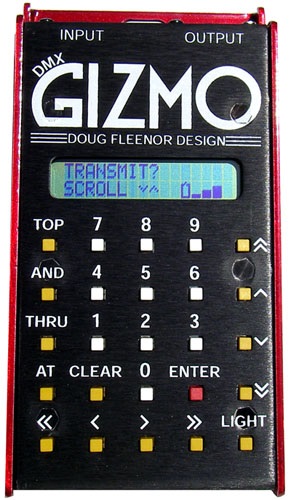 Transmit Up to 512 Channels of DMX512 - Select individual channels using the channel check mode, or select groups of channels using the AND and THRU buttons. Adjust levels with the Up/Down arrows, or press the AT key followed by the level to set a specific value. Press CLEAR to deselect channels leaving levels unchanged. Use the GIZMO as a stand-alone console for all your DMX emergencies. Even change the start codes if desired.
Receive DMX512 - Receive and display data in several formats. The operator can view all 512 channel levels, selected levels, non-zero channels, the refresh rate, number of channels transmitted, received start codes, flicker, and pass through mode for troubleshooting problems.
Save and Recall 100 Scenes - Save and restore snapshots of DMX512 levels. The GIZMO can save and recall up to 100 scenes of either the currently received DMX levels or transmitted data.
Continuity, Pin Correctness and Data Reliability - Tests check cables for shorts, open connections, and data reliability.
LCD Display - Two line back light display, visible in the dark or direct sunlight with the low power back light display.
9 Volt Battery or AC Power Operation - Uses a typical 9 volt battery or included A/C (wall mount) supply.
Durable Metal Housing - The .10" aluminum enclosure can withstand on the road travel
Padded Carry Case Included - Manufactured by REELINE features a layer of closed cell foam to protect against moisture.
25 Button Key pad - Full keypad with CLEAR, ENTER, ALL, AND, THRU and TOP buttons.
Five Year Warranty - We want you to know it works great.
Available:
Special Order/Direct Ship
The PRE10P is a DMX512 playback device that can take up to ten snapshots from a DMX console and play them back at the press of a button.
Fade times can be set from 0 to 999 seconds (default is 2 seconds).
Each PRE10P can work in conjunction with a lighting console, automatically switching between preset and console control. When the console generates DMX, the PRE10P goes off-line, and the console operates normally. Upon loss of DMX from the console, the PRE10P either returns to its previous preset or holds the last look (jumper selectable).
Available:
Special Order/Direct Ship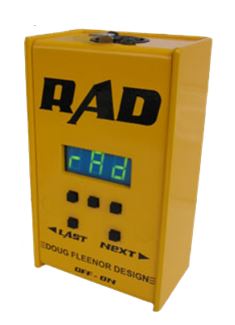 RDM Remote Addressing Device
Available:
Special Order/Direct Ship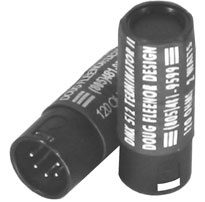 Basic Specification
models: T2-3, T2-4, T2-5
| | |
| --- | --- |
| Connector: | 3 pin, 4pin or 5 pin male XLR, gold plated contacts |
| Termination resistance: | 120 ohms +/- 10% between pins 2 & 3 |
| Size and weight: | 1.9" long, 0.8" maximum diameter, 1 ounce |
Available:
Special Order/Direct Ship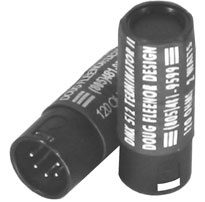 Basic Specification
models: T2-3, T2-4, T2-5
| | |
| --- | --- |
| Connector: | 3 pin, 4pin or 5 pin male XLR, gold plated contacts |
| Termination resistance: | 120 ohms +/- 10% between pins 2 & 3 |
| Size and weight: | 1.9" long, 0.8" maximum diameter, 1 ounce |
Available:
Special Order/Direct Ship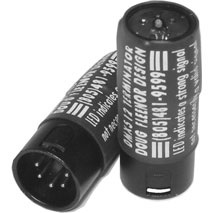 3 Pin DMX Terminator w/LED Indicator
Available:
Special Order/Direct Ship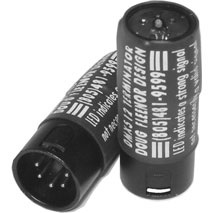 5 Pin DMX Terminator w/LED Indicator
Available:
Special Order/Direct Ship