Description
Price
Quantity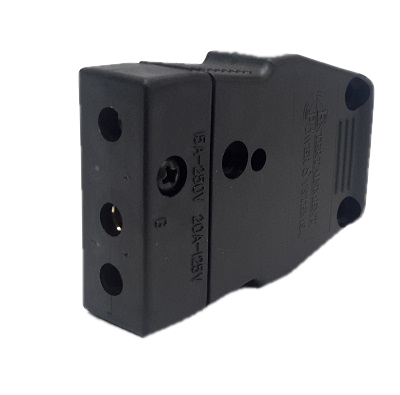 Stage Pin, 20A, In-Line, Female,
Contoured Body provides ergonomic grip
The SP-20 to ensure a comfortable grip, the connector is ergonomically contoured and fits your hand like a glove.
Thermoset Composite extreme heat resistance
The Entertainment Power Systems SP-20 stage-pin connector utilizes a high temperature thermoset compound, which provides maximum protection in extreme heat applications. In addition, the unique, impact-resistant thermoset construction makes the connector very durable.
Versatile Strain Relief accepts 16/3 to 12/3 SO
A versatile strain relief system accepts a wide range of cable, from 16/3 silicon up to 12/3 SO. The cUL Listed connector incorporates floating male pins and split female receptacles to achieve a perfect connection.
Stage Pin, 20A In-Line, Female
UltraDur Nylon performs in extreme temperatures to 500 deg F and is highly durable and resilient to punishing impacts. 

Bates stage pin connectors offer years of reliable service in the most demanding environments. 

Contact pins are crafted from solid brass machined to +/- 0.0005" tolerance 

Contact  pins to float which allows positive alignment and pin contact which is critical to device life. 

Precision slotted and crimped female contacts are sized to provide constant spring contact pressure even when the pins are damaged. 

Accepts #10 or #12 S Type Cable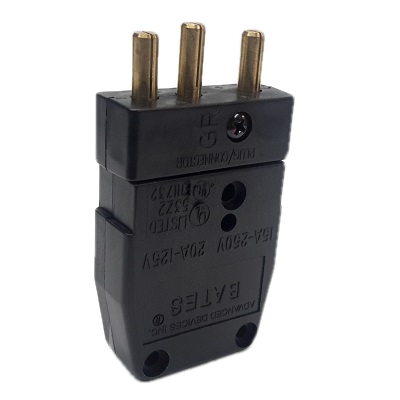 Stage Pin, 20A In-Line, Male
UltraDur Nylon performs in extreme temperatures to 500 deg F and is highly durable and resilient to punishing impacts. 

Bates stage pin connectors offer years of reliable service in the most demanding environments. 

Contact pins are crafted from solid brass machined to +/- 0.0005" tolerance 

Contact  pins to float which allows positive alignment and pin contact which is critical to device life. 

Precision slotted and crimped female contacts are sized to provide constant spring contact pressure even when the pins are damaged. 

Accepts #10 or #12 S Type Cable
Available:
Special Order/Direct Ship